Product Description
Big League Stick Labels are custom design and printed on 3M Vinyl self adhesive digital print media. Each label is contour cut and laminated for durability. All decals are water and scratch resistant. Easy step by step instructions make Big League Stick Labels easy to apply directly onto your own stick.
Endorse your own stick and turn your stick into a "Big League Stick!" Order for one, the team or an entire tournament! Ideal for hockey, ringette, lacrosse, curling & more! Have you ever left a stick on the bench or dressing room? Changing a broken stick on the fly has never been so easy. Increase your rate of return with custom stick labels by Stinky Lockers.

Custom design your own stick label with;
Your Jersey Number

Your Team Logo

Your Team Color

Your Last Name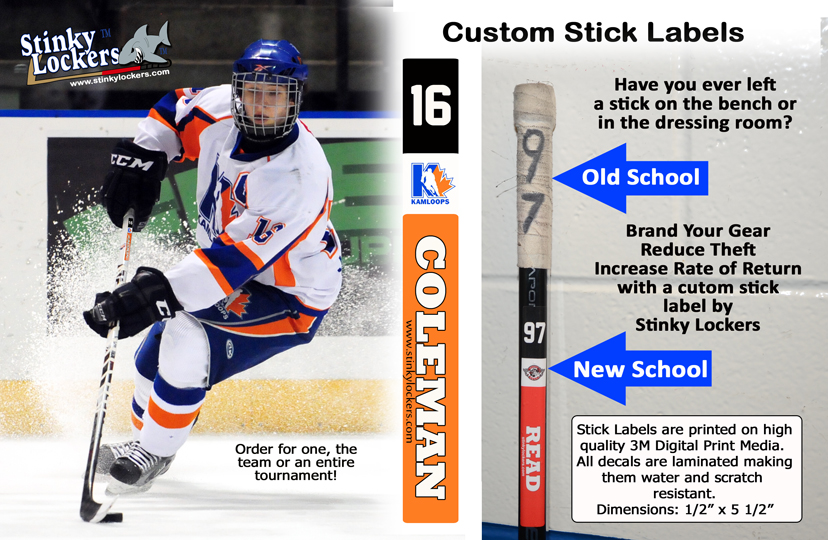 Looking to order for an entire tournament? Email us for a tournament quote.
Product Reviews
Write Review
Previous | Showing reviews 5-8 of 14 | Next
Awesome gift!

Posted by Natasha on 26th Mar 2017

I bought stick stickers for my son's hockey team as a season-end present. The were a hit! They look so great and everyone was very impressed.

Stick label

Posted by Unknown on 4th Mar 2017

Fantastic way to separate the kids sticks
Last forever and the kids like seeing them

awesome

Posted by taylor on 13th Feb 2017

Love these stickers! Always the highest quality!

Awesome Labels, great company!

Posted by Jennifer Lueck on 4th Jan 2016

I ordered these right before Christmas, I asked if they could be rushed as a gift and I got them the next day. The symbol I uploaded (was easy to do) and looks great. They turned out real nice and look cool on their sticks. This is a great company and will order more of them with different logos for the next team.
Product Videos
Custom Stick Labels by Stinky Lockers. Your name, your number, your team color and logo. Simply peel and stick to your hockey stick! Only $ 5 each! Visit us online at stinkylockers.com
Hockey Decals 2

Custom Stick Labels by Stinky Lockers. Your name, your number,...
Product Videos
Customers also viewed