Product Description
Get your all in one OHS Hat Trick Combo.
Hat Trick Combo features;
2 Big League Stick Labels

1 Water Bottle Decal

2 Helmet Jersey # Decal

2 Team Logo Helmet Decals

1 Team Name Decal for Helmet
Only $ 20 for the set. This product is a mail order product. Expected delivery 7-10 days.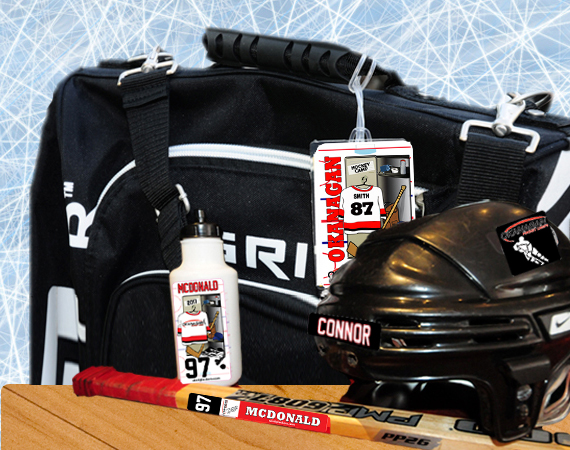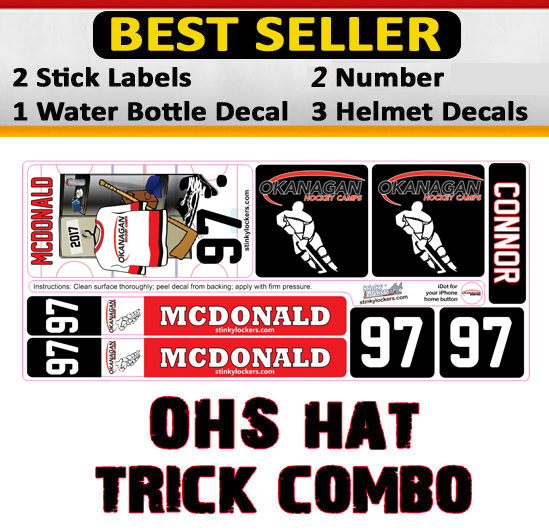 Decals are custom design and printed on 3M Vinyl self adhesive digital print media. Each label is contour cut and laminated for durability. Easy step by step instructions make Big League Stick Decals easy to apply directly onto your own stick, water bottle & helmet!
Benefits Include;
· Reduce the risk of theft
· Help identify sticks on the bench
· Or left in the dressing room
· Increase your rate of return!
· Kids with Big League Feeling!
Product Reviews
Write Review
Stick Labels Are Great!!

Posted by Scott M on 24th Aug 2017

My son was very happy with the stickers and really liked the stick labels. Made the mistake of putting the helmet decal with his name on it on his helmet when attending OHS... and within an hour it was covered up by the OHS big white name label so it ended up being a waste. So if attending OHA, don't use the name sticker for the helmet until after the camp as it is a waste. Great quality product though!!!!!
Product Videos
Hat Trick Combo $ 20
03:39
Check out the Stinky Locker Hat Trick Combo. This decal pack features a Water Bottle decal, 2 Stick Label Combo & 4 helmet decals. Simply peel and apply to your existing water bottle, stick and helmet. Visit us online to order at www.stinkylockers.com
Hat Trick Comb...

Check out the Stinky Locker Hat Trick Combo. This decal pack f...
Product Videos
Find Similar Products by Category